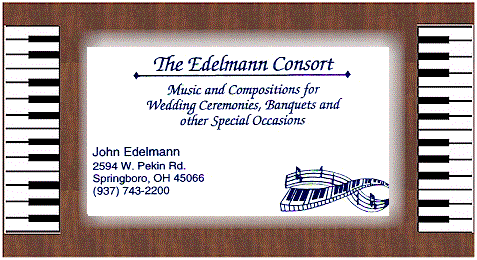 Specializing in Music Performance for
Weddings, Funerals, Baptisms, Banquets, and other liturgical and special events
in Greater Dayton and Cincinnati, Ohio since 1983
Services Available
Meet to arrange order of ceremony, determine musical selections, and actual performance (included in BASIC FEE of $200)
Hire other musicians - prices vary from $75 - $150 per individual
female and male vocalists - Tammy Schaff, Tammy Hemmerle,
flute, trumpet (and other brass), string instrumentalists
guitar and bass - Nick Cardilino, and others
Optionally provide keyboard and keyboard sound equipment (Alesis and Roland U-220 Sound modules, Yamaha P200 Digital Piano, and dual powered Korg SM-75 amps for best stereo sound) - $50 additional
Instrumental arrangements, sound track composition, and other musical work
Past experiences include ceremonies of all types, in churches of many denominations as well as Jewish Synagogues.

CD recording of May We Be One, with song writer/performer, Nick Cardilino, available at his web-site.

I am recommended by the University of Dayton Campus Music Ministry as a wedding and Sunday Liturgy music minister.

For more information or to schedule a meeting,
send email to edelmann@hcst.net or call John at 937-554-1815 (8am - 3pm M-F).
Composition and Recording Samples
On YouTube(juanboy2k) - Prelude for an Evening Mass, The Mansions of the Lord, My Favorite Lightning Bugs, September in New Hampshire
On the Crystal Road

- A quickie ad lib number I recorded. In order to listen to this, you need at least version 5.0 of the Real Audio G2 Player. If you don't have Real Audio on your system, you'll get gibberish when you click on this link.

Ye Watchers and Ye Holy Ones - Brass Arrangement - Midi File - First performed at the Mass for the Sesquicentennial Celebration of the Cincinnati Province of the Society of Mary, January 22, 2000.

Play Time Parade - A full dixie land band arrangement of the title song from a recording produced in 1987 by Golden Glow Recordings, of Yellow Springs, Ohio. This is an MP3 file.

A Silly Parade Song - A midi version of a song written in 1985 - the first of several used for an award winning flat bed band, which premiered in 1985 at the 4th of July Parade, in Gallipolis Ohio.

Because of Love - An MP3 recording of a touching song, with a sentimental story behind the scenes (follow the link to another page with more details and the song).

A Peace Carol - A midi version of an interesting original composition. Keyboard music is available.

Recessional No. 1 - A midi arrangement of a grandiose tune for 2 Trumpets and Organ.

Recessional No. 2 - A midi arrangement of another similar tune, for Solo Trumpet and Organ.

Happy Birthday, Erika - An MP3 recording of a touching little song I wrote and recorded for my daughter, Erika, on the occasion of her 5th birthday, June 25, 2001.